Published in November 2020
The Double Angel Foundation was pleased in 2020 to meet a growing need for youth baseball and softball scholarships throughout the metro area, awarding $6,317 to nine individuals and Parker Youth Sports.
In a year that marked 20 years since the tragic passing of Dillon and Logan Dixey, it seems appropriate that some of this year's scholarship recipients had heard about the brothers, for whom the scholarships were created, from a very young age.
The  largest scholarship was awarded to Ponderosa High graduate Ty Martens, 18, who had received a $1,000 scholarship to Northwestern College.
Baseball means a lot to Ty:  "The love of the game and competition are two great things, but people and the relationships you form with them will last a lifetime, long after the cleats have been hung up."
Parents Katie and Sam Martens said Ty "was at the dedication ceremony of the (Double Angel) fields when he was just 4 years old and grew up hearing the story of Dillon and Logan."
Ponderosa's Brady Ingalls, 17, who received a $500 scholarship, also had known about the Dixey boys from a very young age, growing up in the same area of Parker.  Mother Ginger Ingalls said he "will uphold the legacy you all have started for your boys."
Others needed assistance for a variety of reasons, including a parent's unemployment due to COVID-19. This year's winners also included:
Arianna White, 14, Alameda Green Mountain Huskies – $200
Caden Houle, 9, Parker Rec registration fee and helmet, $99
Bahati Langford, 10, Nike Baseball Camp, $200.
Chloe Ryan, 8, Parker Rec registration fee, $89
Faye Reynolds, 9, Parker Rec equipment, $80
Odin Reynolds, 5, Parker Rec equipment, $60
Austin Burden, 5, Parker Rec registration fee, $89.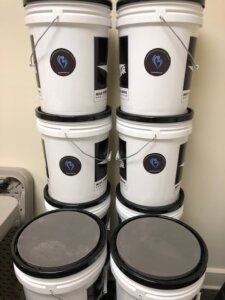 Parker Youth again received a $4,000 donation, which was used to purchase buckets of baseballs and softballs for all of its teams.
Gameday Sports received a $5,000 donation that will be used to help operate the Double Angel Ballpark.
Depending on financing and grants, the Foundation annually awards scholarships to ballplayers, ages 5 to 18, who are in need of financial assistance. Scholarships can be used for high school baseball, special needs baseball programs and girls' softball.
Interested applicants should return the completed packet to: Double Angel Foundation, P.O. Box 4004, Parker, CO 80134. ATTN. Double Angel Baseball Scholarship.  Further information on Double Angel is available at www.doubleangel.org. Questions can be addressed to doubleangelorg@msn.com or 303-841-2420.