Published in February 2020
Three Denver area youth, Parker Youth Sports and Gameday Baseball were the 2019 recipients of the Double Angel Foundation's efforts to make baseball accessible to all children.
With scholarships to help defray their expenses, the three area youth who were able to pursue their baseball/softball dreams were:
Bahati Langford, 9, a third grader from Denver, who received a $540 scholarship to attend the NIKE Baseball Camp at Regis University this summer. Bahati is playing for the Bomb Squad- SE Denver Baseball Association.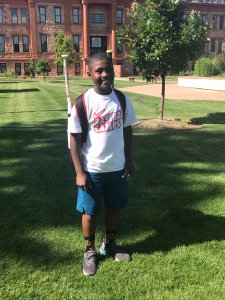 After the camp, Bahati's mother, Jayna Langford, wrote: "Thank you again, Double Angel Foundation…. He had a great time learning new baseball skills and fellowshipping with other baseball players. His highlight was winning the home run derby for his age group…. This opportunity would not have been possible without the Foundation's assistance, and for that I am truly grateful."
Arianna White, 13, an eighth grader from Lakewood who plays for Alameda Green Mountain Softball, received a $300 scholarship to cover her softball registration fee, uniform and equipment.

In an email, Arianna's mother, Sunshine Thomas, told DAF: "We are so grateful of the opportunity to receive a scholarship from Double Angel Foundation. You all are truly a blessing and have blessed many families. The game last night against Golden had a very fast pitcher, and Arianna hit the ball and got an RBI. We are so proud of this beginner! Thank you again for this opportunity."
Jade Gonzales, 11, a sixth Grader from Lakewood, received a $195 scholarship to cover her registration fee to play softball with the Huskies Green Mountain Girls Softball team this summer.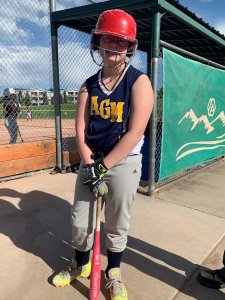 The Foundation would like to thank Ryan Livingston, a representative with Alameda Green Mountain Girls Softball Association, for his help getting the DAF scholarship application in front of people who need financial assistance to play the game that Dillon and Logan Dixey loved so much!
Parker Youth, which had 60 youth baseball teams and 10 youth softball teams for the Sprint 2019 season, used its $4,000 donation from DAF to purchase:
* Baseball buckets with two dozen practice balls per baseball team.
* Softball buckets with two dozen softballs for practice for each girls team.
In the past, coaches needed to collect funds from players or used their own money to purchase the practice balls.
* Catcher's gear for the baseball teams, as well as a catcher's mitt for each team.
* Batting helmets with a face mask for extra safety and protection for girls softball.
Gameday Sports received a $5,000 donation that will be used to help operate the Double Angel Ballpark.
Recipients were expanded this year, following a 2018 decision by the DAF Board of Directors to expand the Scholarship Program to
include all area youth between the ages of 5 and 18.
Instead of focusing on seniors who graduate from Parker area high schools, the Foundation plans to spend up to $5,000 each year, depending on financing and grants, to sponsor ballplayers, ages 5 to 18, who are in need of financial assistance. Scholarships can be used for high school baseball, special needs baseball programs and girls' softball.
Interested applicants should return the completed packet to: Double Angel Foundation, P.O. Box 4004, Parker, CO 80134. ATTN. Double Angel Baseball Scholarship. Further information on Double Angel is available at www.doubleangel.org. Questions can be addressed to doubleangelorg@msn.com or 303-841-2420.