Published in November 2021
More than $11,000 was given out by the Double Angel Foundation to various individuals and sports organizations in 2021!
Among this year's recipients were:
Amelia Adams, 11, Parker Parks and Recreation. Amelia has enjoyed playing softball with others as a team.
Faith Secrest-Sanchez, Alameda Green Mountain Girls Softball League/Lakewood Tigers. The 10-year said she has always dreamed of being a softball player and believes the sport will help her be successful in her career.
Giovanni Rosales, 8, Lakewood Junior Baseball/Tigers. Giovanni has asthma, but his parents said he wants to be active and become good at baseball.
Anthony Gasca, 10, Lakewood Junior Baseball Association.
Jayleah Espinoza Gasca, 7, Alameda Green Mountain Girls Softball League/tee ball.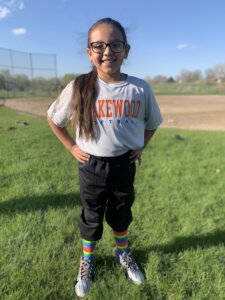 Anthony & Jayleah's mother, Marisol Gasca, told the Foundation that their family was new to the area and had suffered economically, due to the pandemic. "Having a scholarship for my children will definitely give them hope and guarantee them a new opportunity to have something to look forward to," she said.
Joshlynn Graff, 9, Lakewood Girls Softball, who wants "to play softball because it is a dream of mine…. I think it would be a great experience."
Jordyn Moralez, 14, Colorado Diamond Team.
Parker Youth Sports, which used the donation to purchase buckets of balls for 60 teams.
Many coaches sent thanks to the DAF, including Brad Wright, who said: "Once again you have helped the Parker Hawks in a very meaningful way and we cannot express how grateful we are to have your support. I think I speak for all of the coaches and parents when I say thank you."
Brett Sowers of the Hawks 8UAA team said: "I just want to thank you so much for that donation. You are impacting kids in the game in a big way. Baseball teaches kids tremendous life lessons and you providing baseballs makes that happen."
Gameday Baseball donation to help operate the Double Angel Ballpark.
Also receiving a scholarship, but in 2020 after last year's newsletter was published, was Derek Gordon, 14, Colorado Stealth Baseball. Derek used his scholarship to replace his catcher's mask and pay for fees in the 2021 season.
DAF annually awards scholarships to ballplayers who need financial assistance to play the game that Dillon and Logan Dixey loved so much. Scholarships can be used for high school baseball, special needs and community baseball programs, and girls' softball.
Interested youth between the ages of 5 and 18 should return a completed application to: Double Angel Foundation, P.O. Box 4004, Parker, CO 80134. ATTN. Double Angel Baseball Scholarship.  Further information on Double Angel is available at www.doubleangel.org. Questions can be addressed to doubleangelorg@msn.com or 303-841-2420.